Before I start with today's WIAW, I just want to say that I am SO CHUFFED with myself!
I've just finished the dreaded C25K W5D3 (the first non-stop 20 minute run). Considering I only started running (having never run, even at school) a little over a month ago, I'm calling it a massive achievement!!! I'd originally planned to re-do W5D2 to cope with my OCD-ness issue of having a 'workout 3' on a Wednesday, but got to 10 minutes and figured I was good for 12. Then got to 12 and thought I could manage 15 and then thought fk it, I was going to go for the full 20 minutes. Legs are feeling a little wobbly now (although that could be the fast 5 minutes I did on the bikes straight afterwards), but overall feeling good. STARVING but good! :)
Anyhoo, onto today's proceedings!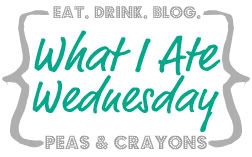 Today's WIAW is brought to you from Saturday - I'm finding that taking food pics during the daytime works SO much better than taking them in the evening, which means that weekends work best, even if it hasn't stopped raining for weeks! :)
I've been itching to make banana pancakes for ages and as we had a couple of old bananas left in the fruit bowl this week, I thought it would be rude not to. I was tempted to try the simple banana + egg recipe, but as P does really need his carbs, I kept the flour in the recipe.
After we came back from shopping for a few bits and bobs (including some new gym kit - yay!), I was absolutely ravenous, so whipped up a Red Pepper, Black-Eyed Bean and Low-fat Cheese Quesadilla.
Dinner was another recipe I've been itching to try out as I've not made one in years. This was a Pork, Stuffing and Apple Meatloaf with stir-fried spring greens (P had his with some mashed potato as well).
This was VERY yummy and the leftovers were just as good for lunch the next day.
500g Lean Pork Mince
50g Sage and Onion Stuffing
5 Rashers, Smoked Streaky Bacon
1 Medium Egg
25g Breadcrumbs
50g Bramley Apple Sauce
1 Firm Eating Apple (I used a Pink Lady), sliced
Salt & Pepper
Preheat oven to 190 Degrees C
1) Evenly line a small loaf tin with the slices of bacon.
2) Make up the stuffing with a little boiling water and set to one side.
3) In a mixing bowl, thoroughly mix the mince, breadcrumbs, egg, salt and pepper - get your hands in - it's much quicker!
3) Press half of the mince into the loaf tin.
4) Spoon the apple sauce down the middle length of the tin. Roll the stuffing into a sausage shape, and place down the middle of the loaf tin on top of the apple sauce.
5) Carefully press the remaining mince mixture over the stuffing, wrapping any loose ends of the bacon around the bottom.
6) Place the slices of apple along the top of the meat mixture.
7) Cover the top of the tin loosely with foil and place in the middle of the oven for 20 minutes.
8) Remove the foil and return to the oven for a further 10 minutes.
9) Take the tin from the oven and carefully turn out onto a baking sheet so the bacon is on top. Return to the oven for a final 10 minutes so the bacon goes crispy and slightly golden.
10) Allow to cool slightly before slicing.
Today's Workout (c25k W5D3):
Rowing (moderate, 32 spm) = 10 minutes
Walking (brisk, 3.8 mph) = 10 minutes
Running (slow, 5.0 mph) = 20 minutes
Stationery Bike (moderate, 90+ rpm) = 6 minutes