The further I progress with my fitness journey, the more I'm finding I'm enjoying really pushing myself further and harder. If I'm not dripping with sweat by the time I finish my workout, I don't feel I've tried hard enough. This morning was no exception. I was re-running c25k W6D2 to bring the 'week' back into line with a calendar week as it's been bugging me, so today was 2x10 minute runs. I finally managed to get my Spotify account working, so it made a nice change not to be listening to the same tunes on MTV Dance again - I've decided that running to D&B tracks at about 180bpm, really makes a difference and I upped my speed a bit to 5.5mph (from 5.2). Definitely still manageable but more of a challenge and I was somewhat sweaty once I'd finished running! Really feeling like running a full 5k is within reach now - might have to look some up that are before the planned Race for Life this summer!
After the treadmill I hopped straight onto a stationary bike for a further 10 minutes hard ride. Lovely job! :)

Today, as you're probably aware, is Wednesday, which means that it's time for WIAW!
This week's is brought to you again from Saturday...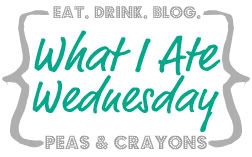 Breakfast was a wonderfully unhealthy homemade vanilla cupcake (full fat, full sugar and absolutely delicious) and a banana.
I
bake cakes
for family and friends and had been asked to make some Valentine's cupcakes for a good friend of mine. These were red-coloured vanilla sponge with cream cheese frosting. As P loves them too, I always make a few extra for him, but helped myself to one on Saturday morning (but scraped the frosting off mine!).
Lunch was slightly healthier and one of my favourites: wilted spinach with hot smoked salmon flakes, topped with two poached eggs (and lots of ground black pepper). This was the first time I've tried poaching eggs for years and I was really pleased how they turned out! The 'Hairy Bikers' suggest immersing your eggs for 20 seconds in the hot water before removing them quickly and then breaking them to poach - seemed to work a treat as they stayed in nice neat blobs and I was able to cook two in the pan at once.
Dinner was also one of our favourites! A lean, jerk-spiced pork loin steak with sweet potato mash, sugar snap peas, carrots and for myself, a big bunch of curly kale. I can't get enough of the stuff and am usually only limited by how much room I have left on my plate!

Now I'm off to go and see what everyone else has eaten this week! :)


Today's Workout (c25k W6D2 - repeated to bring the 'week' back in line):
Walking (brisk, 3.8 mph) = 14 minutes (6, 3, 5)
Running (slow, 5.5 mph) = 20 minutes (10, 10)
Stationary Bike (moderate, 100+ rpm) = 13 minutes