I think I'm coming down with Man Flu.
P has had a nose like a tap for the last few days so it's pretty much inevitable I guess, but I was hoping my immune system would have shaken the bugs off :(
As a consequence, today's workout wasn't as great as I'd hoped, but I did manage to do 10 minutes' running at 6mph (yay - finally at 10 min mile speed!) with a slight incline, but because I was feeling crap, the rest of the treadmill session was 5 minute intervals at 5.8mph with 0.5 or no inline, and 60s walks in between for the rest of the 40 minutes. I did follow up with time on the bike as well :)
There seems to be a social media trend going around today for 'cancer awareness'. Although I can't seem to find out where it originated, I'm more than happy to raise awareness for this horrible disease so have joined in the #nomakeupselfie trend.
Because awareness isn't everything, I also paid for my
Race for Life
entry today as well - a friend and I will be running it this year in June (instead of walking it, as per last year!).
Want to help? Please consider
donating
to your local Cancer Charity!
Last week I failed miserably with WIAW so made an effort to take pics this week.
Today's post is therefore brought to you by Thursday :)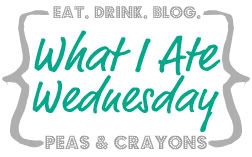 Breakfast was the current favourite and one I keep going back to: fresh mango and pineapple with 0% Fat Greek Yoghurt and a drizzle of honey - yum! Sometimes I have a sprinkle of cinnamon as well. :)
I will have to apologise for the next pic (well no-one can say it was photoshopped to look good!) as I got most of the way through my lunch before remembering to snap it!
This was leftover dinner from Wednesday, and was The Hairy Dieter's low-cal
Pan Haggerty
(a lovely one-pan dish of bacon, potatoes, cheese and carrots) from their
second recipe book
. I have to say,
both of their diet books
are
brilliant
and well worth buying. Some recipes are a little obvious and simple if you're a keen cook anyway, but worth it for the inspiration!
I posted about Thursday's dinner separately because it was also really, really good. This was a
Caribbean-spiced 'Cottage Pie'
with fried plantains - a veg (actually a fruit), that I've never cooked before and definitely will do again!
So all in all, a pretty good day of eats and not at all 'snacky'!
Now I'm off to go see what everyone else has been eating! :-)
Today's Workout:
Walking (brisk, 3.8 mph) = 8 minutes (5, 1, 1, 1, 5)
Running (slow (but getting faster!), 6.0 and 5.8 mph) = 25 minutes (10, 5, 5, 5)
Stationary Bike (moderate, 90+ rpm, L8) = 13 minutes