I suspect I'm finally battling injury :(
I was feeling a little stiff this morning but usually think nothing of it as it usually wears off after a few minutes into my run. This morning though, by the time I reached 20 minutes the tops of my feet felt just like my laces were too tight (they weren't). I kept going to the 25 minute point but had to stop there (and got on the bikes). They continued to ache afterwards, although eased up slightly after I'd been sitting at my desk for a couple of hours. Even now, I'm walking very gingerly. :(
It's been suggested I've inflamed my Extensor tendons, which basically means Rest, Ice, Compression and Elevation - all of which are a bit tough at work.
In any case, I'll see how they feel later as I don't want to be jumping to conclusions, but think I'll have to lay off running for a bit to make sure they definitely don't get worse. :( Oh well... at least I think I'll still be able to cycle and can probably use the Arc trainer.
I really do suck at remembering to take pictures of my food. I mean, I only committed to do WIAW, which means just taking pictures of what I've eaten for one, single day of each week, but inevitably, I end up forgetting to take pics at one meal or another...
HOWEVER, I DID remember to take pics this week, so without further ado, this is What I Ate
Wednesday
Sunday! :)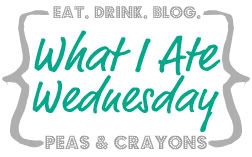 Breakfast was a toasted slice of seeded wholemeal bread with half a tin of Heinz Beans with sausages - a somewhat guilty pleasure of mine. :) This was topped off with a fried egg (freshly laid by Gabbi) with a single rasher of streaky bacon (I cooked a bit too much when making P's Bacon, Egg and Cheese 'Manwich').
After much excitement, by lunchtime I was feeling hungry again. P asked for an egg mayo sandwich, so my lunch was largely comprised of leftovers. Leftover tuna mayonnaise with capers, egg mayo (made with salad cream) and a sliced egg in Sweet Gem lettuce leaves, with a side of cherry tomatoes.
I very nearly forgot to photography my dinner so had to push it all together to get something relatively photogenic :)
I went a little mad on the veggies, but we had roast pork with stuffing, half a baked apple, baby new potatoes, cauliflower cheese, spring greens, broccoli, stringless beans and gravy - naturally with a good blob of apple sauce!
The Sunday Roast is very definitely a favourite in our household...
Today's Workout:
Walking (brisk, 3.8 mph) = 10 minutes (5, 5)
Running (slow, 5.6 mph) = 25 minutes (25 non-stop)
Stationary Bike (moderate, 90+ rpm, L7) = 13 minutes